---
C1-Business Management
No access plans exist.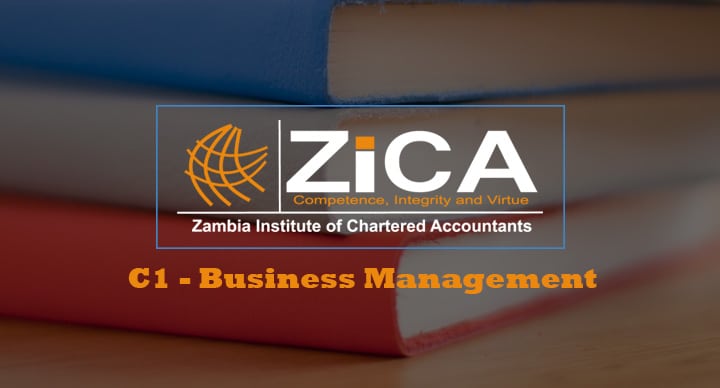 Course Features
Course Details
C1-BUSINESS MANAGEMENT
This paper introduces students to the wider concepts of business organisation and governance, environmental influences, leading and managing individuals and teams, recruiting and developing effective employees and information and communication in business management.
Objectives
On completion of this paper, the student should be able to:
Explain the structure and nature of business organisations and their governance,
Identify the environmental factors and establish how they affect the management of organisations,
Apply management theories in the establishment of procedures for leading and managing individuals and groups in organisations,
Explain the role of management in recruiting effective employees,
Explain the management of the marketing function,
Explain the role of information and data in organisations and how it is communicated.
Structure of the examination paper
There shall be a three hour examination consisting of five (5) compulsory questions of twenty (20) marks each. Candidates will be allowed fifteen minutes' reading and planning time.
Detailed syllabus
UNIT 1 - BUSINESS ORGANISATIONS AND GOVERNANCE
Element 1: The business organisation and its structure
Element 2: The formal and informal business organisation
Element 3: Organisational culture in business
Element 4: Stakeholders of business organisations
Element 5: Committees in the business organisation
Element 6: Business ethics and ethical behaviour
Element 7: Governance and social responsibility in business
UNIT 2 - ENVIRONMENTAL INFLUENCES
Element 1: Political and legal factors
Element 2: Macro-economic factors
Element 3: Social and demographic factors
Element 4: Technological factors
Element 5: Competitive factors
UNIT 3 - LEADING AND MANAGING INDIVIDUALS AND TEAMS
Element 1: Leadership, management and supervision
Element 2: Individual and group behaviour in business organisations
Element 3: Team formation, development and management
Element 4: Motivating individuals and groups
UNIT 4 - RECRUITING AND DEVELOPING EFFECTIVE EMPLOYEES
Element 1: Recruitment and selection, managing diversity, and equal opportunity
Element 2: Techniques for improving personal effectiveness at work
Element 3: Training in the maintenance and improvement of business performance
Element 4: Development in the maintenance and improvement of business performance
Element 5: Learning in the maintenance and improvement of business performance
Element 6: Review and appraisal of individual performance
UNIT 5 - MARKETING FUNCTION
Element 1: Marketing and sales management
Element 2: Market research and analysis
Element 3: Marketing plans
Element 4: Markets and customers
Element 5: Marketing mix and the product life cycle
UNIT 6 - INFORMATION TECHNOLOGY AND COMMUNICATION
Element 1: Features of effective communication
Element 2: Oral and Written communication
Element 3: Information technology and information systems in business
Element 4: Data and information and their characteristics
Reading material
 ZICA, Business Management, ZICA publications, Lusaka, Zambia
Cole G. A , Management theory and Practice, Fifth edition, Thompson Press
ZICA (2007), Management, ZICA Publications, Lusaka, Zambia.
This course does not have any sections.
---
More Courses by this Instructor
---