---
INVITATION TO ATTEND THE 2019 TAX UPDATES WORKSHOPS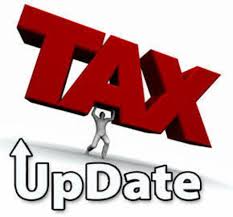 ZICA is pleased to announce the 2019 Tax Update Workshops in Lusaka and Kitwe. The workshop to be facilitated by distinguished Tax Experts will involve a comprehensive discussion of the 2019 Tax legislation, transition to the sales tax system, 2019 Tax Practices by ZRA and how to manage the common pitfalls in tax accounting. The workshops will cover the following topics:
Preparing for the sales Tax System;
2019 Tax Legislation and its implications;
2018 Transfer Pricing Regulations
Addressing the Common pitfalls in:
i) Pay As you Earn (PAYE); and
ii) Company Tax;
Understanding the issues around Customs Taxation
Discussing the Policy stance that informed the Tax changes under the 2019 National Budget
SPEAKERS: Michael Phiri – Tax Partner, KPMG
George Chitwa – Associate Director, PwC
Patrick Mawire – Partner, EY
Zambia Revenue Authority Senior Officials
Ministry of Finance Senior Officials
DATE:                                                                            VENUE:
Friday, 15th February 2019                                      InterContinental Hotel, Lusaka
Friday, 22nd February 2019                                     Garden Court, Kitwe
Time: 08:00 to 16:30 hours
Participation fee: K2, 550/person inclusive of lunch, refreshments, workshop materials and ZICA branded giveaways.
CPD Credits: 6 Hours
For confirmation of attendance kindly visit www.zica.co.zm to register online or contact Sena at Lusaka Office on telephone 021 1 374550-9/69 or Lethia at the Kitwe Office on Tel: 0212 222002, email: technical@zica.co.zm.
Confirmation closes 3 days before the workshop date. Payments should either be deposited in the accounts below or online using Visa or MasterCard via the ZICA website.
Account Name: ZICA
Bank: Stanbic
Branch: Lusaka Main
Account No: 9130000931865
or
Account Name: ZICA
Bank: Zanaco
Branch: Centre branch
Account No: 0027262500102
NOTE: Terms & Conditions apply on cancellation of participation
Recommended Posts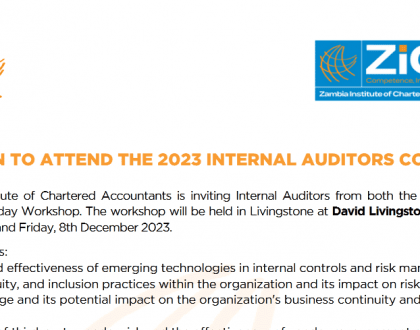 November 30, 2023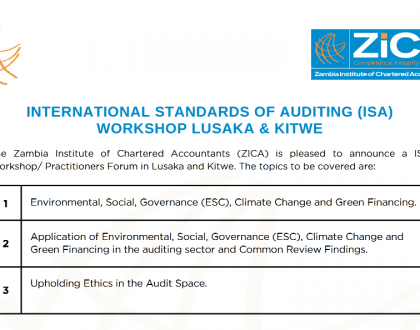 November 13, 2023