---
NOTICE OF POSTPONEMENT – INVITATION TO ATTEND THE 2019 SALES TAX BILL AND EMPLOYMENT ACT No. 3 OF 2019 UPDATES BREAKFAST MEETING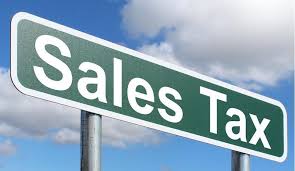 ZICA regrets to announce the postponement of the sales tax bill and employment act meeting scheduled to be held on 15th May 2019 and 23rd May 2019 in Kitwe and Livingstone respectively.
The postponement became inevitable as the Minister of Finance and her Team will be discussing the sales tax bill on the same dates.
 We sincerely regret any inconvenience caused by the postponement and please see the new dates and venues for these meeting as indicated below on the amended advert.
 INVITATION TO ATTEND THE 2019 SALES TAX BILL AND EMPLOYMENT ACT No. 3 OF 2019 UPDATES BREAKFAST MEETING
ZICA is pleased to announce the holding of Consultative breakfast meetings in the month of May 2019 focusing on the Sales Tax Bill of 2019 and Employment Act No. 3 of 2019 to be held in Kitwe and Livingstone. As the proposed legislation to introduce Sales Tax from 1 July 2019 has now been submitted to Parliament for enactment, and the Employment Act No.3 of 2019 has been effected, ZICA is holding a breakfast consultative meetings for Business Leaders, Employers and Employees alike to discuss the scope, key features of the Proposed Sales Tax Regime and Employment Act assessing among other things, the potential impact on businesses.
The breakfast meeting is to be facilitated by distinguished speakers as follows.
SPEAKERS:            
 Mr Barnaby Mulenga- Permanent Secretary, Ministry of Labour
 Mr Chanda Kazhiya – Labour Commissioner, Ministry of Labour
 Mr. Moses Shuko – Commissioner – Domestic Taxes, Zambia Revenue Authority
 Mr. Michael Phiri – Tax Partner, KPMG
 Mr. George Chitwa – Associate Director, PwC
 Mr. Patrick Mawire – Partner, EY
 Ministry of Finance Senior Officials
LIVINGSTONE
DATE :           Monday, 27th May 2019
VENUE:         Chrismar Hotel
KITWE
DATE :           Thursday, 30th May 2019
VENUE:         Garden Court
Time: 08:30 to 11:30 hours
Participation fee: K500/person inclusive of full breakfast and meeting materials.
CPD Credits:             3 Hours
For confirmation of attendance kindly visit www.zica.co.zm  to register online or contact Sena at Lusaka Office on telephone 021 1 374550-9/69 or Lethia at the Kitwe Office on Tel: 0212 222002, email: technical@zica.co.zm.
Register by following this link: https://forms.gle/S4DaD6gibFq6gNy18
Confirmations close 3 days before the consultative meeting date.
Payments should be deposited in either the accounts below and the proof of payment forwarded to technical@zica.co.zm
Account Name: ZICA
Bank: Stanbic
Branch: Lusaka Main
Account No: 9130000931865
or
Account Name: ZICA
Bank: Zanaco
Branch: Centre Branch
Account No: 0027262500102
NOTE: Terms & Conditions apply on cancellation of participation
Recommended Posts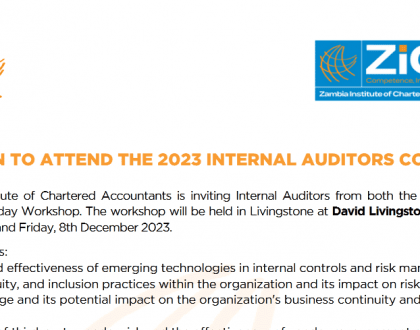 November 30, 2023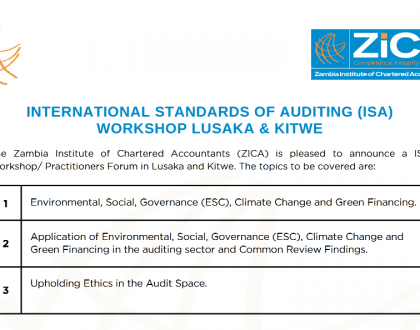 November 13, 2023