---
ZICA – LAZ SIGN MoU TO ENHANCE LONG LASTING RELATIONSHIP IN CAPACITY BUILDING AND PROFESSIONAL DEVELOPMENT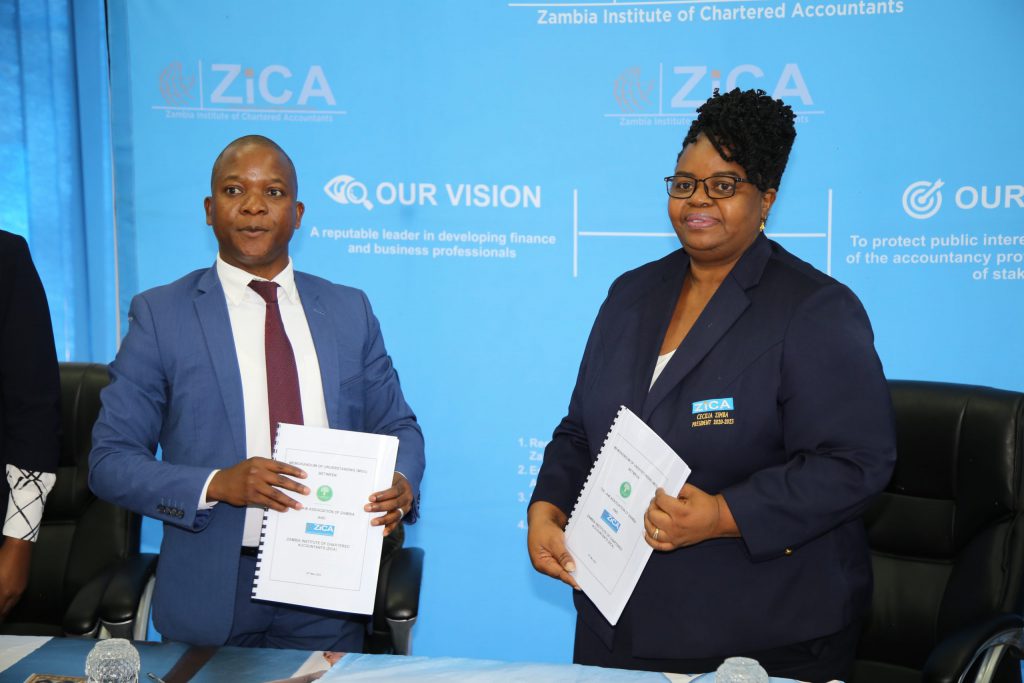 MAY 10, 2023. The Zambia Institute of Chartered Accountants (ZICA) and the Law Association of Zambia (LAZ) have signed a memorandum of Understanding (MoU) to foster enhanced mutual long relationship aimed at forging ties in the exchange of knowledge and information on matters of mutual benefit.
ZiCA President Mrs. Cecilia Zimba said during the signing ceremony in Lusaka today that the MoU signals the willingness of the institution and LAZ to build long-lasting and fruitful relationship that will benefit both of Institutions.
She said that it is the desire of ZiCA and LAZ that this MoU will pave the way for a successful collaboration and a prosperous future for both institutions.
"The MoU covers various aspects of our partnership such as the exchange of knowledge and information on matters of mutual benefit, the facilitation of capacity building activities and continuous professional development programmes for Chartered Accountants and Lawyers, the promotion of Public Financial Management and good governance, and the advocacy for legal and regulatory reforms that affect our professions and impact the Nation," she said.
And LAZ President Mr Lungisani Zulu thanked the ZICA President for extending an olive branch and ensuring that this collaboration took place.
He said that LAZ and ZICA have a critical role to play in the implementation of the 8th National Development Plan (8NDP) and that with such a collaboration, both institutions will be able to create value for our stakeholders and society at large.
The MoU also covers areas such as building capacity of Legal and Accountancy Professions to strengthen Insolvency practice and collaborative efforts in order to promote continuous professional development and to have joint Company Secretarial capacity building trainings
Other areas are to ensure timely and adequate communication on the activities between the parties, to provide adequate understanding of the roles that each party shall play and to build a dialogue and accountability mechanism between the parties among others.
The purpose of the MOU is to find synergistic ways of collaborations between lawyers and accountants in the country and serve as a coordinating framework for consultation between LAZ and ZICA. This MOU reflects the joint commitment to increased partnership of both parties.
Recommended Posts
June 2, 2023